Bonnie Meltzer
very mixed media
Crocheted Wire At The Heart
Complemented With Found Objects, Photos, & Paint
Portland, Oregon artist Bonnie Meltzer makes very mixed media figurative and abstract constructions which transform everyday objects, crocheted wire, digital photographs and painted wood into textured layers of social commentary, personal history and humor.
Studio on Fliker here.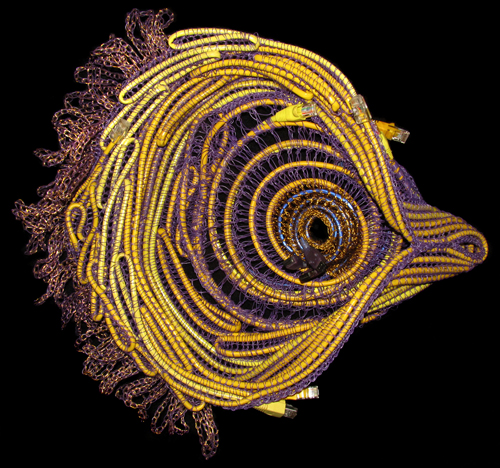 FISH OR FOUL

crocheted wire over a core of computer cords,

To see
highlights of NEWS,
EVENTS
&
CLASSES
scroll
right

>

NEWS


Visit Bonnie Meltzer's Facebook Page

Summer 2017, date to be determined
Collaborative Crochet Sculpture Workshop
All visitors to the Oregon Garden in Silverton Oregon will be able to participate in this day long event of building a crocheted sculpture. Come for a little while or the whole day. After the event, the sculpture will be displayed at the garden.

#CrochetedSculptureWorkshops
#CrochetWorkshops
>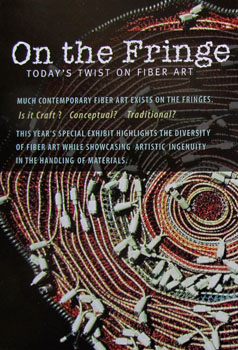 Both of Meltzer's artworks
were used on posters,
invitations and the cover
of the program.

More here
>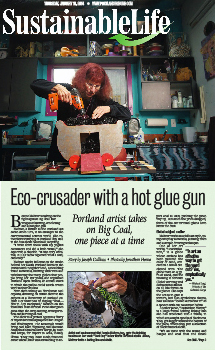 Press about environmental artworks.

PORTLAND TRIBUNE, Sustainable Life
feature story with 2 pages of pictures and text

OREGON PUBLIC BROADCASTING
VOICES OF COAL series
Artist Turned Activist
see video here

#environmentalart
#artaboutcoal
#recycleart
>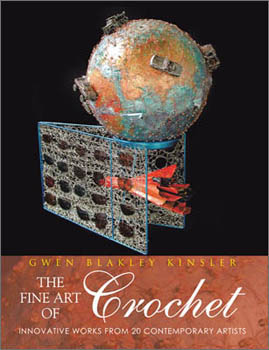 Book
THE FINE ART OF CROCHET
Gwen Blakley Kinsler
Meltzer sculpture on the cover and a chapter about her inside.
Order from Amazon
and see a preview here
#crochet sculpture
#crochet book
#crochet art
>