The proposed coal terminals in the Pacific Northwest pushed Bonnie Mletzer into making a series of artworks about coal and its related environmental issues. The number of materials & techniques she uses are as varied as the issues related to coal mining,transport, and burning.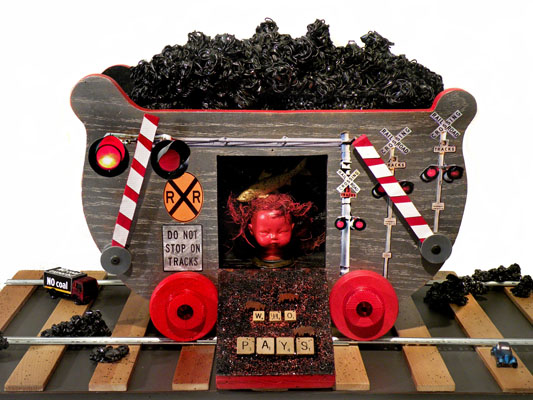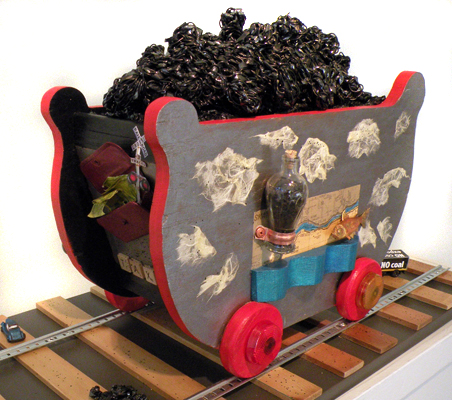 COAL TRAIN: Who Pays
crocheted wire and magnetic tape, found objects, paint, collage
29 x 15 x 14

Coal from the Powder River basin in Montana/Wyoming on its way to Asia would travel through the cities and countryside of Idaho, Oregon and Washington by train . At the ports the trains are unloaded onto mega-ships. There are many environmental issues involved with train transport of coal and oil. One revolves around traffic and who pays for the signals and upgrades at the grade crossings. Not the railroads. There is an enormous cost to the health of citizens from the dust causing pollution and fire hazard of transporting coal and oil. .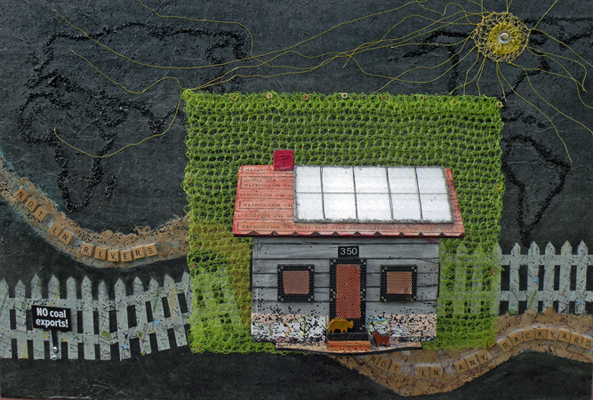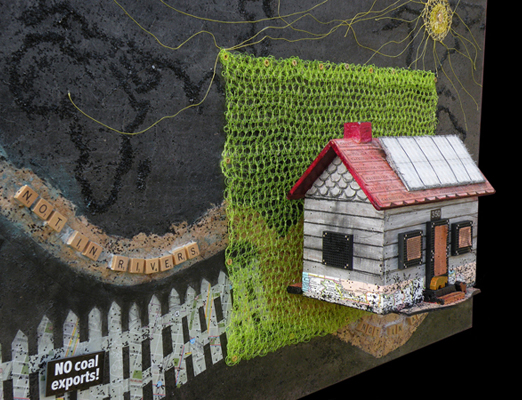 Coal -- Not In Any Backyard
crocheted wire and fishingline, found objects, paint, collage
19 x 29 x 16
..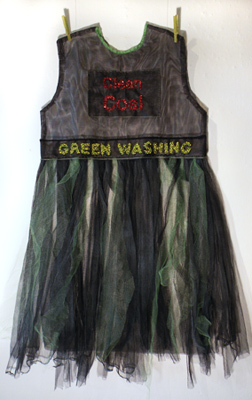 ..
Clean Coal
window screen, net, beads, clothespins
54 x 30
.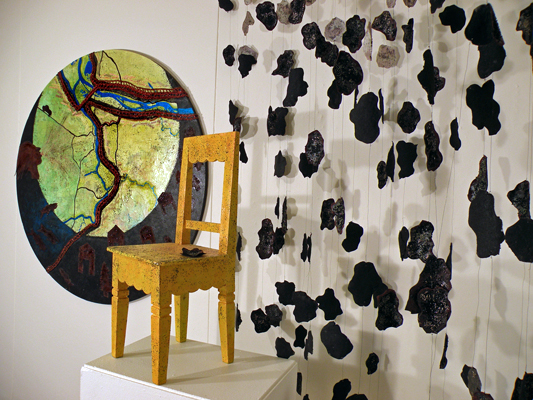 .
3 Down, 3 To Go
found objects, paint, collage, fabric, beads, glitter, crocheted wire
variable configurations and sizes, painting 46" diameter

This installation was first made for Blackfish Gallery's Window in 2012 (images on the right). For the 2014 University of Porltand exhibition (to the left) Meltzer modified the painted component with collaged text and changed the title to reflect the withdrawal of 3 coal port proposals which eliminated some train routes depicted. The text collaged along the eliminated routes are the reasons for the withdrawal of the applications . See the original 2012 window to the right. As of spring 2016 two of the projects are still in contention.
.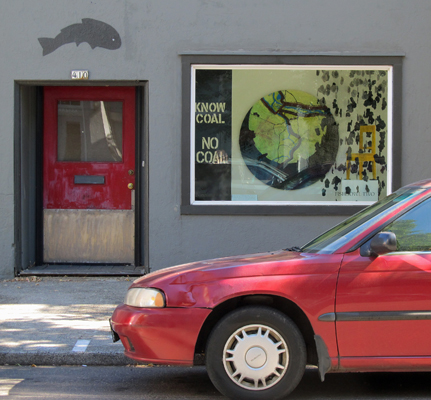 ..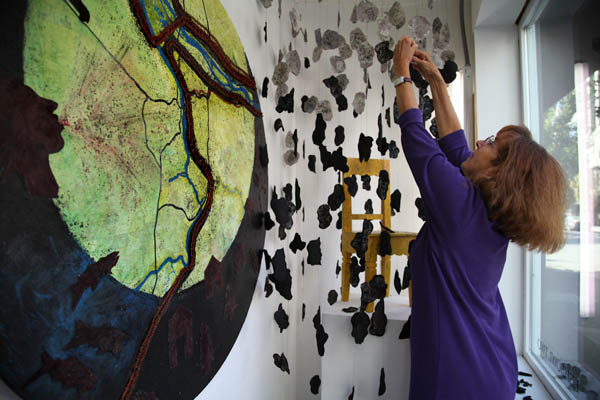 Know Coal No Coal
found objects, paint, collage, fabric, beads, glitter, crocheted wire
variable configurations and sizes, painting 46" diameter

Installing the artwork at Blackfish Gallery. Not only was the configuration of the piece changed from its Blackfish installation to the University of Portland set up but the title changed as well. The most important role for the first showing was to put coal on people's minds, therefore, the use of the words "Know" and "NO". In the second installation the important point was the state of the progress .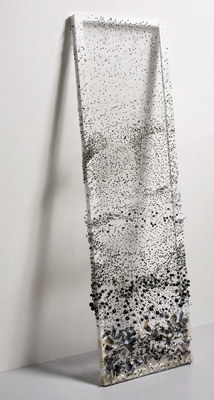 .......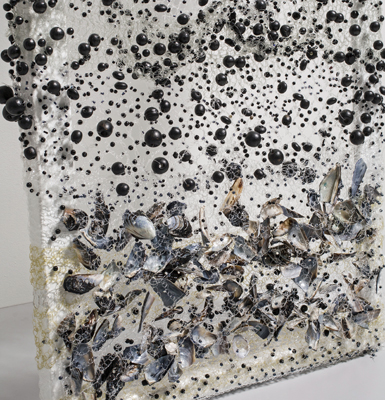 ......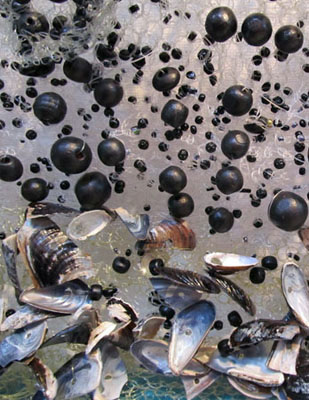 Particulate Matter
crocheted fishingline, beads, shells stretched on metal frame
65 x 19x 4

The subject of coal dust and particulate matter is also addressed in the installation 3 Down, 3 To Go. In this piece fishingline was used for both its transparency and for its connection to water. Air pollution and water pollution are twins, each affects the other.