Scroll right to see all the found object and crocheted wire sculptures.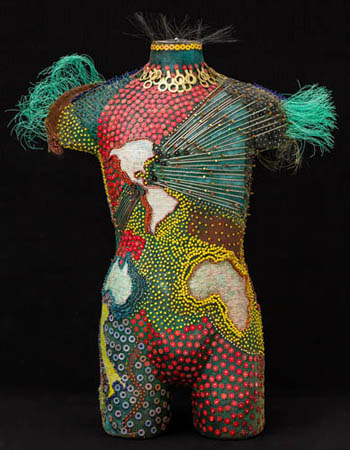 Connected
beads, crocheted wire, found objects, fabric, maps on painted mannequin
34 x 24 x 11

This piece was partial made during an exhibition where visitors to the gallery could participate by adding beads with pins. Meltzer designed the piece and made a great deal of it but participants had some decision making in their additions. This was the first of many collaborative projects.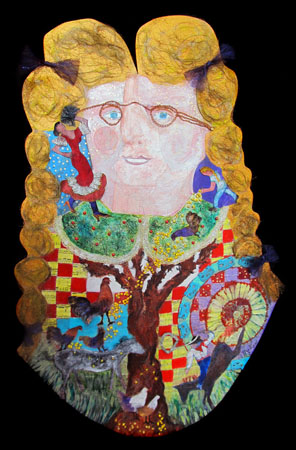 Childhood Dreams
collage, paint, fabric on wood
46 x 30 x 1

Bonnie Meltzer created this artwork with inspiration from "Idaho Toccata" by composer Cynthia Gerdes. Both were shown/heard at the performance of women of Cascadia Composers (local chapter of NACUSA). The music is a portrait of the sounds Gerdes heard as a child in Idaho.

See more pix here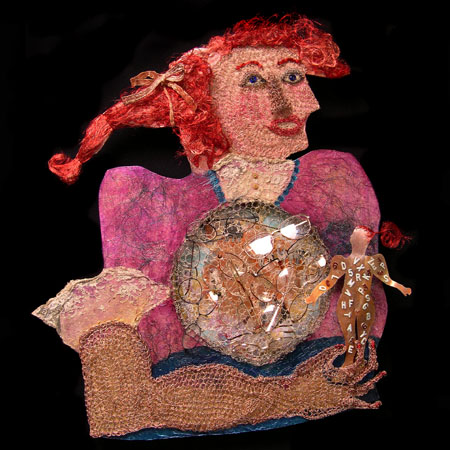 In Sight
crocheted wire, found objects on painted wood and metal
30 x 34 x 3

One of the cut out series made by cutting a void in the wood exposing a deeper layer or letting us see through a transparent veil. This one is about gaining insight through the melding of intellect and emotions.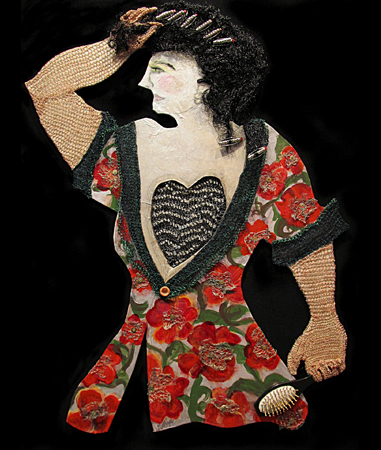 Keeping Beautiful
crocheted wire, beads, antique curlers and other found objects on painted wood
43 x 34 x 3

The color of the wall behind the heart shows through becoming part of the design as do the shadows of the beads and the lacy crochet if the lighting makes shadows.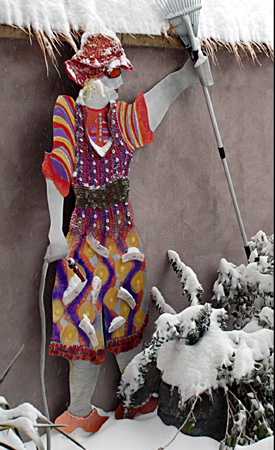 .................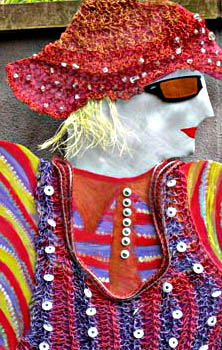 ...
Gardener
beaded crocheted wire, reflectors and other found objects on painted aluminum and copper
72 x 48 x 1

Commissioned for an outside patio to hang on a retaining wall. There are plants growing on the gardening bed at the top of the wall and many pots of plants at the base. The sunglasses and some shapes on the skirt are reflectors which shine at night.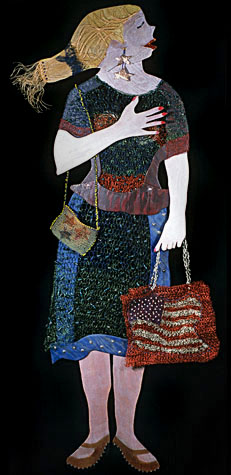 .......................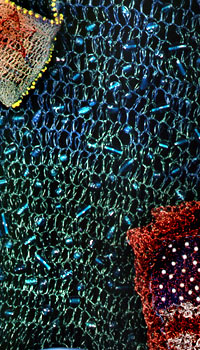 Shop For America
crocheted wire with beads, found objects on painted wood
68 x 27 x 4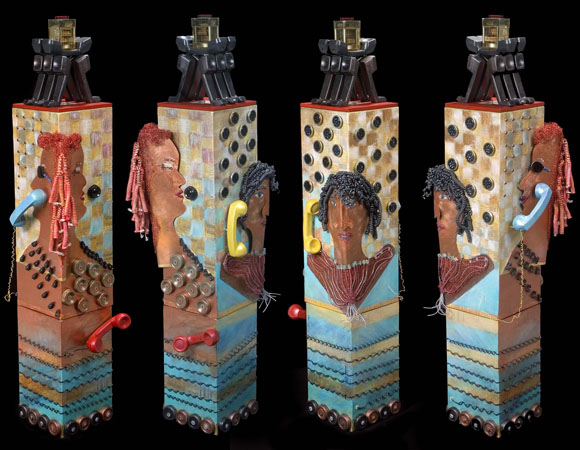 Hello
all 4 sides
phone receivers, phone cords, switchboard lights.
62 x 12 x 12
Hello was made for Pavelcomm, a phone and networking company, as part of "Corporate Waste Into Art. Each artist made an artwork from a company's waste stream. All the artworks were exhibited at Portland City Hall before they went into the offices and lobbies. The client wanted a free standing work rather than a wall piece. It sits in the lobby between two chairs in front of a window When visitors are seated they are at eye level with the "operators" in the sculpture.

.......................

Reflection At Middle Age
found objects, crocheted wire and digital photography on painted wood
78 x 27 x 2

The photographs have been scanned from family albums then edited. The photos are heat transferred onto the wood. The outline format of the images lets the paint and wood grain shine through.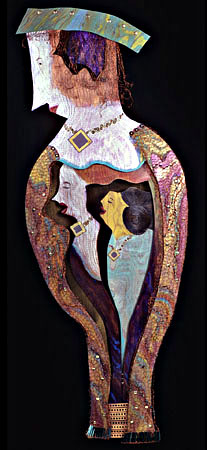 ...................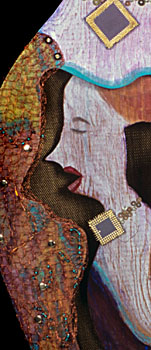 Heirloom
painted wood, found objects and crocheted wire
50 x 19 x 2


We inherit more than just a tangible piece of jewelry.