In the last few years Bonnie Meltzer has invited people to help her make sculptures and installations at events, during exhibitions or in her studio. Galleries, museums, arts festivals, and schools are perfect venues for children or adults. In some instances participants can drop in to stay as long or as short a time as they wish. Other workshops have a prescribed length. Meltzer is available for long term projects, residencies and one day events. Installations are available for exhibition. They can be configured to fit a wide variety of spaces.

Back to
Crochet Workshops here

#CrochetWorkshops #CollaborativeCrochet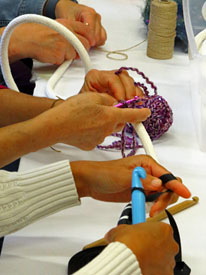 SCRAP
As part of an exhibition Meltzer set up an impromptu studio. People shopping at SCRAP for recycled materials could wander into the exhibition and participate in this work-in-progress by attaching beads with pins It was easy enough for small children and engaging enough for adults. This was the first collaborative workshop. See more about SCRAP here. See sculpture here.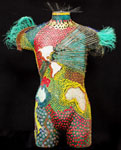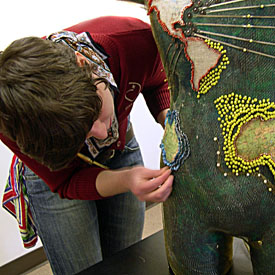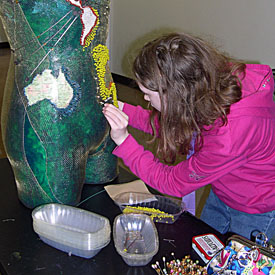 Oregon Episcopal School
In one week Meltzer, with the help of ten middle school student apprentices, completed a sculpture for the Drinkward Center for Math and Science. Meltzer designed the overall piece but students designed many of the details. Sculpture made of objects from the schools waste stream-- mostly of computer, musical instrument parts, and The lattice which gave inspiration to the graph theme. The students worked with many processes and materials plus safety procedures. See more here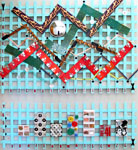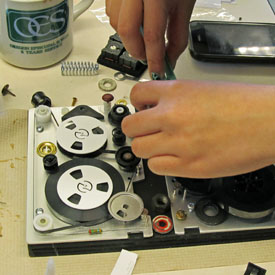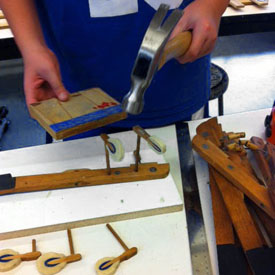 Astoria Yarn Bomb

During this on the street drop-in crochet workshop that coincided with the Astoria Yarn Bomb, crocheted embellishments were added to the larger than life figure hanging on the Astoria Fiber Art Academy building. See it at 1296 Duane. She will be taken down in winter and put up in summers. See more here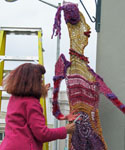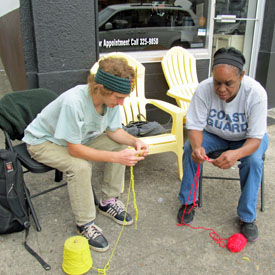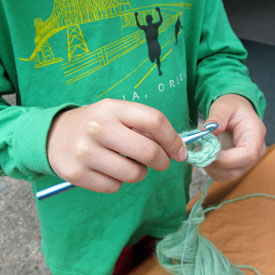 Sou'wester Lodge Residency
During her Sou'wester Residency Meltzer held an open workshop during her Sou'wester Residency on the Long Beach Peninsula in Washington. On the dining table in the historic, antique filled lobby participants crocheted, pinned beads to the sculpture and threaded buttons on recycled wire heddles (loom parts) for later attachment. This sculpture is still in progress. See the evolution of it here.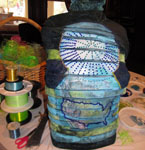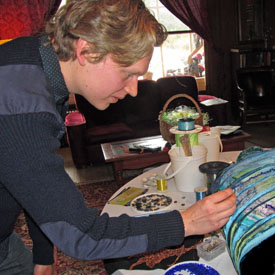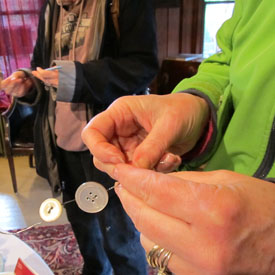 Brownsville Art In Rural Storefronts
Art In Rural Storefronts is a community project sponsored by the Corvallis Art Center. People from Meltzer's neighborhood in Portland, took part in the making of the installation. During four workshops in Meltzer's studio and yard participants crocheted rain and grass. It is now available. It can be hung in many configurations. See the finished installation here
.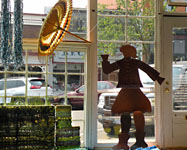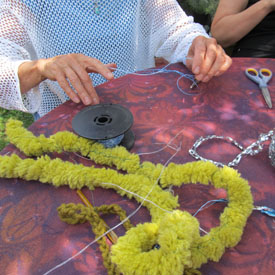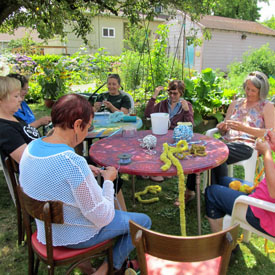 Blackfish Gallery Window
The idea for involving people to help for this project was one of necessity. Meltzer had to finish an installation in two months. She put out a call on Facebook and to her surprise quite a few people wanted to participate. An assembly line of sorts was organized for the making of "coal dust" out of fabric, beads, glue, and wire. This installation is available. It can be hung to fit in a wide range of spaces. See the finished installation here.