The works on this page were designed with an exhibition's theme or a commission that tells the client's story.
Scroll right.to see all the found object sculpture.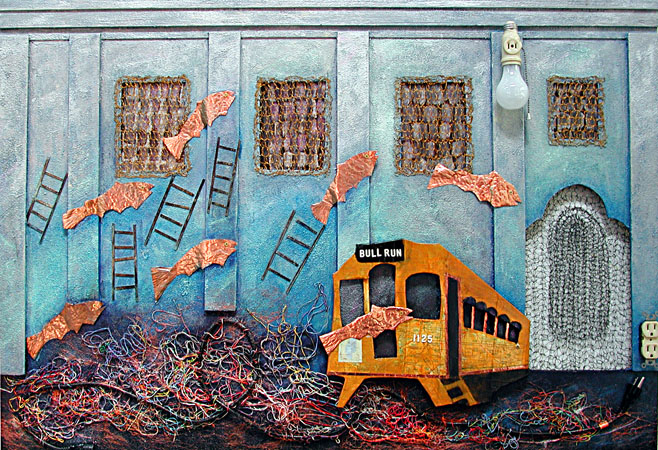 Making Electricity
found objects, wire on painted wood
33 x 48 x 3

Originally made for the traveling exhibiton Art Contemplates Industry: Bull Run. Twenty artists were invited to the Bull Run electric generation plant after it was closed and the dam destroyed. The plant was originally built to make electricity for trollies.

Links
Project website here.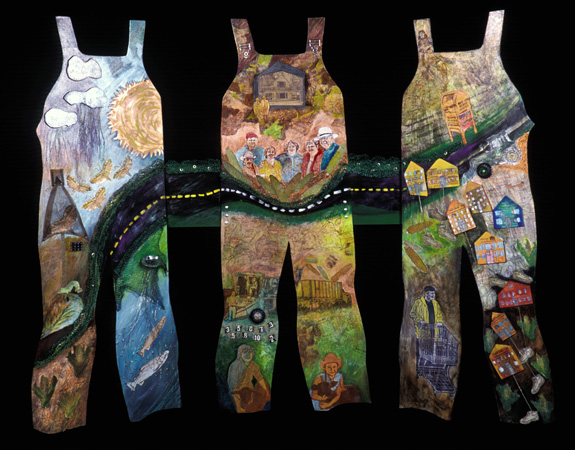 ......
Bequest
digital photography, found objects and crocheted wire on painted wood
left and right panels 57 x 19 x 3 each center panel 57 x 33 x 3


Made for " Sustaining Change on the American Farm", Maryhill Museum, Goldendale, Washington. Twelve artists, paired with twelve farmers, visited their respective farms then constructed artworks about sustainable agriculture. Meltzer used the three panels to tell about land use, farm families, and the problems of growing food.

Links
Read about the exhibition here.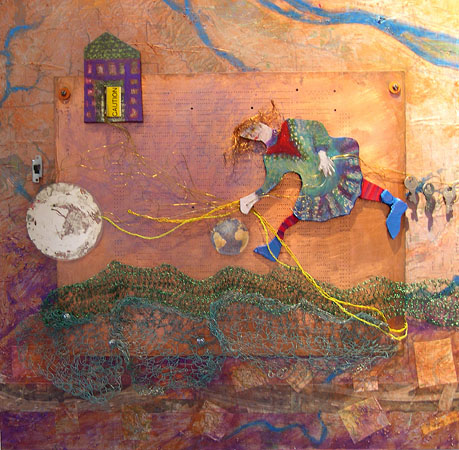 Journey
found objects, mirrors, crocheted wire, copper, on painted wood
44 x 54 x 4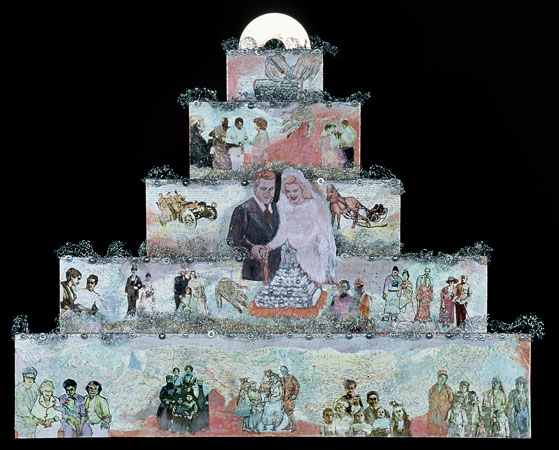 Wedding Cake - One Family
family photographs, maps, found objects, crocheted wire on painted wood
30 x 36 x 4

The photographs for this wall sculpture were collected from friends and family with relatives of mixed ancestry. One marries the spouse, the family, the ethnic group along with all the customs, holidays and food.

Talk To Me
personal artifacts, maps, found objects on painted metal
64 x 24 x 7

"Talk To Me" was commissioned to hang over a fireplace. The owner of the piece is an educator who specializes in helping people to communicate better. She also had the last letter her mother had written to her. Now, instead of being in a drawer the letter is enshrined behind one of the doors.