Bonnie Meltzer
very mixed media
Crocheted Wire At The Heart, Complemented With Found Objects, Photos, & Paint
Portland, Oregon artist Bonnie Meltzer makes very mixed media figurative and abstract constructions which transform everyday objects, crocheted wire, digital photographs and painted wood into textured layers of social commentary, personal history and humor.
Studio on Fliker here.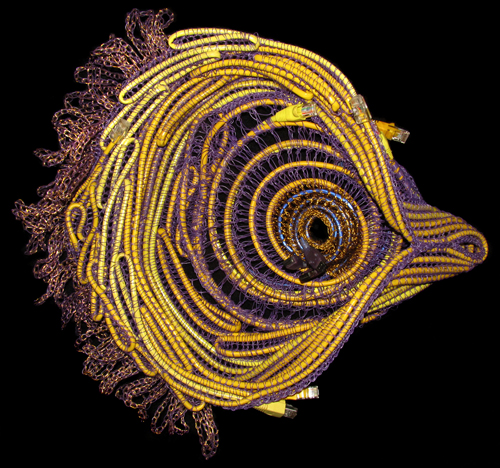 FISH OR FOUL

crocheted wire over a core of computer cords,

To see
highlights of NEWS,
EVENTS
&
CLASSES
scroll
right

2016

NEWS


Visit Bonnie Meltzer's Facebook Page

Bonnie Meltzer has been nominated for 2016 Crochet Guild of America Jean Leinhauser Hall of Fame Award. See more at http://www.Crochet.org


APRIL 7
opening reception 5:00 - 8:00
Brothers Grimm Fairly Tales Exhibition
Portland Center for the Visual Arts
Exhibit continues through May

AUGUST 18 & 19
Crocheted Sculpture ; Vessels & Voids
Sitka Center for Art and Ecology
Otis, Oregon (on the Oregon coast)
Details and enrollment here

#Crocheted Sculpture Workshops
#CrochetWorkshops
2015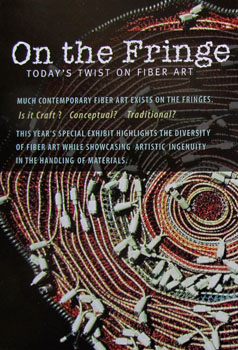 Both of Meltzer's artworks
were used on posters,
invitations and the cover
of the program.

More here
2014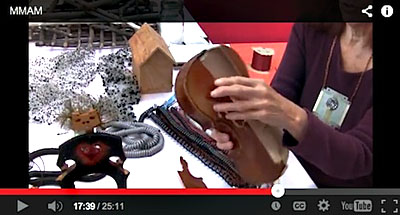 A
Article and Video
MIXED MEDIA ART MAGAZINE

The article includes a video in which Meltzer shows the decision making process about what and how to repurpose found objects.
See here.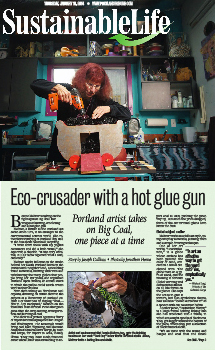 Press about environmental artworks.

PORTLAND TRIBUNE, Sustainable Life
feature story with 2 pages of pictures and text

OREGON PUBLIC BROADCASTING
VOICES OF COAL series
Artist Turned Activist
see video here
2013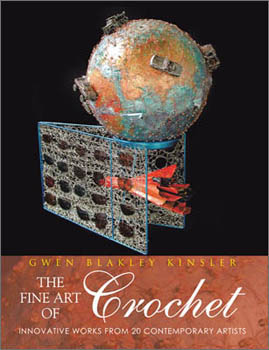 Book
THE FINE ART OF CROCHET
Gwen Blakley Kinsler
Meltzer sculpture on the cover and a chapter about her inside.
Order from Amazon
and see a preview here
2012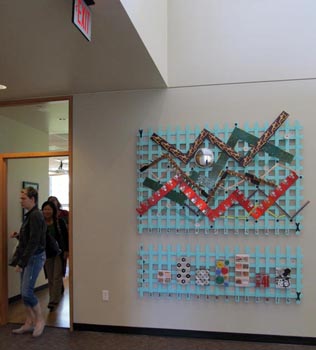 Oregon Episcopal School Sculpture Project
A wall sculpture for the Science and Math building was designed and constructed by Meltzer with the help of 10 OES students. Almost all of the materials are found objects consisting mostly of computer and musical instrument parts. Found wood lattice became a major part of the design and gave inspiration to the graph theme.
See pictures of the artwork and the process on Facebook here

2011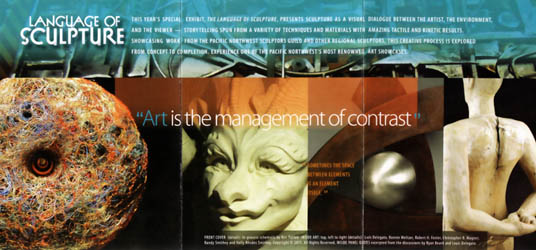 Lake Oswego Arts Festival
The language of Sculpture
group exhibition at
Lakewood Art Center

Meltzer sculpture pictured on far left of invitation.
More info here